Genpact Hiring Freshers for Process Associate – Accounts Payable in Hyderabad
Genpact Hiring Freshers for Process Associate – Accounts Payable in Hyderabad
Hiring For: Process Associate – Accounts Payable
Experience : Freshers
Qualification: Graduate in Commerce (B.Com)
Passout Year: 2017, 2018, 2019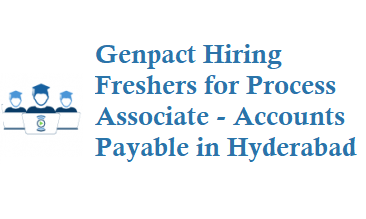 Job Description & Required Skills:
Inviting applications for the role of PA, Accounts Payable
We are looking for professionals with extensive knowledge of Accounts Payable/Invoice Processing /Accounting/ERP to process Vendor Invoices accurately and respond to queries to ensure timely payment of these Invoices.
Responsibilities:
·Review and process invoices along with providing the resolutions for the invoices and releasing the invoices for Payment.
·Resolve all vendor queries and requests coming via e-mails / Tickets within the agreed SLA.
·Review and validate basic essentials of valid invoice like supplier details, PO, bank account, invoice #, invoice date etc.
·Maintain a tracker of the exceptions and ensure Invoices / queries are handled taking based on the exception tracker.
.Maintain exception logs for process related exception as and when they occur for knowledge retention
·Independently perform transactional tasks which support the compliance, planning and execution of assigned processes.
·Follow up with requisitions (via calls/ mails or tickets ) to solve hold invoice as per the AP guideline
·Adhere the internal compliance policy and guideline established by the management on their daily operational activities.
·Perform daily internal audit to ensure all Invoices / queries are handled as per the guidelines
How to Apply : Apply online, Check this link
Important Documents to Carry: Two Copies resume and Photos
All Xerox Copies Education Documents
Govt Issues ID Proof like Driving License,PAN Card,Passport,Aadhar card
Location : Hyderabad
Salary : Not available now
Walk-in Dates : Will get by email