List of Internship Jobs Websites in India
List of Internship Jobs Websites in India
If you are a student/working and looking for doing an Internship in a company across PAN India, then check below for the list of best sites which provides Internships for students or individuals.
Best Internship Sites in India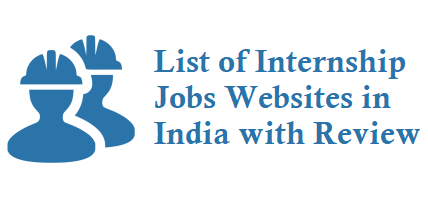 Internship Jobs Websites in India
1. Internshala – https://internshala.com – India's Top Providing internship Site.
2. Twenty19 – http://www.twenty19.com/internships – Provides Internships, Online Courses & Events in India.
3. LetsIntern – http://www.letsintern.com/internships – Provides internships for college students in Engineering, MBA, IT, Media, Finance & other streams.
4. Switch Idea – http://www.switchidea.com/?q=&t=2&c=&l=0 – Provides exclusive student opportunities from the industry.
5. Hello Intern – https://www.hellointern.com – Provides best internship programs for students and talented interns for companies. Perfect platform to look for global internship programs for better career development opportunities.
5. Indeed – https://www.indeed.co.in/Internship-jobs – Provides curated Internship Jobs across India at one place.
6. FreshersWorld – https://www.freshersworld.com/jobs/category/internship-job-vacancies – Provides curated Internship Jobs in one place.
7. Intern Theory – https://www.interntheory.com – Provides internships & jobs for college students in India.
8. 10Internship – https://10internship.in – Provides curated list of Internship Jobs.
9. Make Intern – http://www.makeintern.com – MakeIntern provides best internship opportunities like Summer Internships, Virtual Internship, Paid Internship and others.
10. Internlelo – http://internlelo.com
List of other sites to keep an eye for more information on Internship programs in India
1. http://www.pursueasia.com/
2. http://www.indianinternship.com/
3. https://www.addmylearning.com/
Above list of sites provides internship program, internship in India.
Note: This article will be updated regularly.