Solugenix is Hiring Freshers for Process Analyst in Hyderabad
Solugenix is Hiring Freshers for Process Analyst in Hyderabad
Solugenix Company is Hiring Freshers for Associate Process Analyst – Trainee and Process Analyst in Hyderabad.
Solugenix Hiring Freshers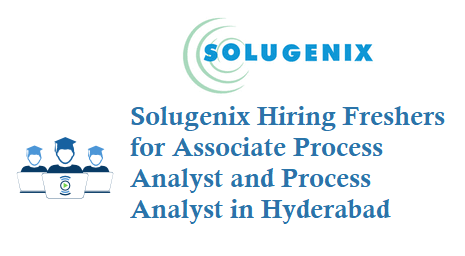 Job Title : Process Analyst
Joining Date : Immediate / Within next 7-10 days
Location: Hyderabad, India; Work-from-Home until the office re-opens
Position: Full-Time / Contract-to-hire
Job Hours: India Day Hours – Late Evening Hours (No Night Shift)
Note: Preference will be given to candidates who have some work experience at least 6 months but still freshers are ok.
Process Analyst
(Associate Process Analyst – Trainee / Associate Process Analyst / Process Analyst / Senior
Process Analyst / Lead Process Analyst)
Job Summary:
The Process Analyst will be responsible for manually entering data from scanned documents
into a platform/tool. The processes will be done to ensure proper application of and compliance
with internal standards, guidelines, and procedures.
Job Responsibilities:
• Primary duties include online reviewing of documents to validate information accuracy
• Verify data for accuracy & completeness and key-in data fields by reviewing scanned
documents
• Review loan documentation which may be in different formats including image files
• Identify certain data fields from the documents
• Log into the system and enter the data in the corresponding data field while maintaining
accuracy and high attention to detail
• May perform other document filing tasks
• Accountable for following defined process standard operating procedures
• Responsible for meeting individual key performance metrics related to business
processes assigned while adhering to quality and productivity standards.
Required Skills:
• Intermediate to high level of reasoning skills – the ability to deal with problems involving
several variables and interpret/identify data
• Use PC-based software packages for word processing, spreadsheets, etc.
• Intermediate to high English language skills – especially in reading and interpreting
documents and data
• High attention to detail
• Able to learn new processes and tools
Qualifications
• Graduate / Diploma in any Degree
• 6 months to 3 years of work experience in ITeS / BPO domain performing data entry will
be a plus
• Familiarity with US mortgage documents is a plus
Email your Resumes to offcampusjobs.in@gmail.com we will refer you.